WHAT OUR CUSTOMERS THINK ABOUT US
Our Latest Reviews
We're proud of our satisfaction record, and not afraid to shout about it.
We believe that honesty is paramount. We make diamond jewellery because we believe that we can offer you an outstanding service at an outstanding price. So when we found Feefo we were delighted to add it to our website. Everybody claims they are special, but the only judge is you.
Feefo is an independent review system that gives you the chance to rate products and services within a range of Excellent to Bad. Whatever you record with Feefo, good or bad, it is posted immediately onto our website for the whole world to see.
We cannot edit or change your response in any way and are delighted to see that most of our customers have been pleased with our service.
Take a look at our most recent feedback, or visit Feefo by following this link.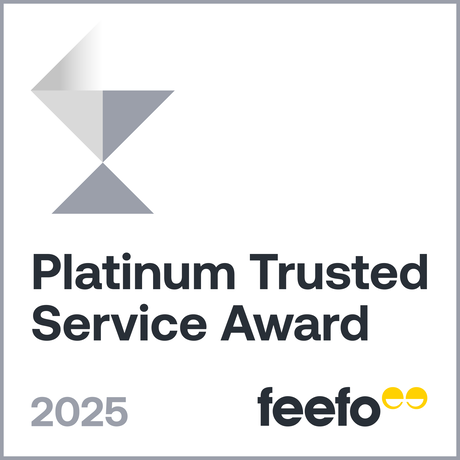 Date
Product
Score
Customer Comment

0.3

25-Mar-2023
Lucinda

Absolutely fantastic, just like before
My wife loved the necklace & it arrived exactly as requested
Thank you. Read More

0.3

25-Mar-2023
Jessica

Great friendly and informative advice , no pressure , lots of time given to make the choice and purchase. Most importantly the wife loves the diamond pendant. Now saving up for earrings
I would recommend Samara James service and jewellry.. Read More

0.3

24-Mar-2023
Deluxe D-Shape

Superb service every time I ve used them from start to finish x Read More

0.3

15-Mar-2023
Judy

Excellent service e throughout and brilliant communication. Incredibly helpful staff who offered really great advice. Read More

0.3

10-Mar-2023
1.7mm Slender Vintage

Highly recommended, we have used sj previously for other jewellery. Their standard of quality, and customer service is beyond compare. Read More

0.3

05-Mar-2023
Evangeline

They listened to what I thought I would like and they brought forward many designs for to to choose from within the price range. These were looked at both on their large television screen and samples for me to try on. Care was taken to make sure the ring size was completely correct so when the ring... Read More

0.3

04-Mar-2023
Cora

Henusha was friendly and she gave me professional advice from my initial enquiry through to explaining the 4C's which helped me to make the perfect choice of ring for my granddaughter's 18th birthday present.
I am absolutely over the moon with the quality and the look of this exquisite Cora... Read More

0.3

03-Mar-2023
Myrtle

Although there was a slight delay with the delivery of the engagement ring, when it finally did arrive we were really pleased with the purchase. Will continue to recommend Samara James to friends and family. Read More

0.3

02-Mar-2023
Orchid

brilliant service, martin was superb. very helpful, no pressure to purchase, and great after care Read More

0.3

01-Mar-2023
Morgan

Great service, Ring looks Fantastic and most of all the Girl who is wearing it loves it !!! Read More

0.3

24-Feb-2023
Sasha

Once I ordered my fiancé's ring a very helpful young lady helped me on my choice. From start to delivery, I was kept informed every step. Thank you. ♥️ Read More

0.3

24-Feb-2023
Meghan

Great service in lovely surroundings, a huge choice of engagement rings, and the final product is perfect. I love it! Read More

0.3

18-Feb-2023
5.0mm Deluxe Court

Nothing too much trouble, very quick, efficient service. Everyone is always pleasant and helpful when contacting them. Did a bespoke order for a wedding ring too and was a very simple process. Read More

0.3

16-Feb-2023
Damaris

Had a problem with the ring setting being loose 8 months after a refurbishment. Contacted the company and was told to Send the ring back and was contacted to say it was best to replace the ring with no quibble and loads of advice. Truly 5star service by the sales team and company.
Can not... Read More

0.3

15-Feb-2023
2.5mm Vintage Style

Cos was so helpful in advising me which eternity band to buy. Nothing was too much trouble. When my ring arrived I was so delighted. It is beautiful and the diamonds have so much fire. I would recommend Samara James as they offer such good value for such top quality items. The customer service is first... Read More

0.3

11-Feb-2023
2.5mm Vintage Flat

Excellent service and care given to us. Read More

0.3

10-Feb-2023
3.0mm Classic Eternity

We bought our engagement ring and wedding ring from Samara James. Really great looking rings and top quality diamonds. Service was always excellent, we went to their showroom as well and ordering online and both experiences were great. Can't fault them really. Read More

0.3

07-Feb-2023
Keira

What an amazing experience!! Thank you so much for all of the help and guidance you gave me to make the right ring choice. Fantastic customer service throughout! Read More

0.3

30-Jan-2023
Elizabeth

Excellent service, friendly and helpful staff. Very attentive and brilliant experience. Read More

0.3

29-Jan-2023
Double-V Diamond 2.3mm

Their service was tremendous from start to finish. Always very friendly and kept us informed through every step. Read More

0.3

25-Jan-2023
Jamie

Perfect Service. The ring is absolutely perfect, could not have wished for better Read More

0.3

20-Jan-2023
Bespoke Ring Setting Only

Ellen did a wonderful job explaining all aspects of the purchase to me, I wanted a complicated setting for a stone I already own. 5* Read More

0.3

30-Dec-2022
Genevieve

Great service from from start to finish. Accommodating with appointments both to choose the ring and picking up. I had a timeline which was met easily and early.
Definitely recommend and we will be back to choose our wedding rings.
Martin was very helpful and knowledgeable putting my nervous... Read More

0.3

28-Dec-2022
1.7mm Slender Vintage

Top service. Would recommend to all Read More

0.3

28-Dec-2022
Morwenna

Fantastic experience and great customer service (Isla) from booking an appointment, viewing the ring and pick up. Read More

0.3

22-Dec-2022
3.0mm Deluxe Court

Always helpful and excellent customer service. Great choice of products and easy to use website. Read More

0.3

22-Dec-2022
Nyla

They done all they said they would do. The service was excellent and the item came securely and on time. Many thanks Read More

0.3

22-Dec-2022
Sherry

Great service and welcoming approach. Read More

0.3

22-Dec-2022
Bespoke Diamond Wedding Ring

Excellent service Read More

0.3

19-Dec-2022
Portia

My experience of Samara James was incredibly helpful. My consultant was very knowledgable and helped me find the perfect engagement for my girlfriend (now fiancé) who is over the moon. I'd highly recommend Samara James as finding the perfect ring can be a daunting task but they made the whole... Read More
GET IN TOUCH
We're on hand to make sure you get the best quality and value for your bespoke jewellery. Contact us today.
-
BY PHONE

01932 260 100

9.00am - 5:30pm. 7 days a week.

BY EMAIL

We aim to reply within 24 hours.