WHAT OUR CUSTOMERS THINK ABOUT US
Our Latest Reviews
We're proud of our satisfaction record, and not afraid to shout about it.
We believe that honesty is paramount. We make diamond jewellery because we believe that we can offer you an outstanding service at an outstanding price. So when we found Feefo we were delighted to add it to our website. Everybody claims they are special, but the only judge is you.
Feefo is an independent review system that gives you the chance to rate products and services within a range of Excellent to Bad. Whatever you record with Feefo, good or bad, it is posted immediately onto our website for the whole world to see.
We cannot edit or change your response in any way and are delighted to see that most of our customers have been pleased with our service.
Take a look at our most recent feedback, or visit Feefo by following this link.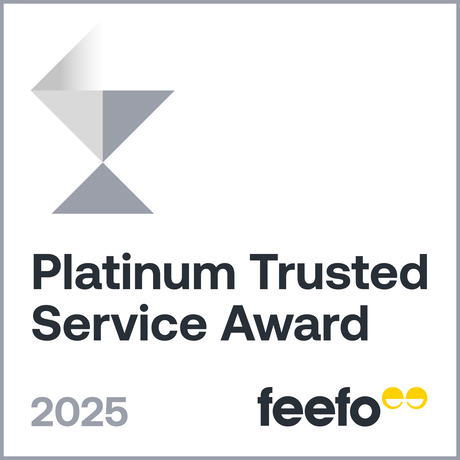 Date
Product
Score
Customer Comment

0.3

13-Aug-2022
Meadow

The staff can't help you enough and have the knowledge to help you, every time I contacted them I received a answer to my question.
The Ring arrived today (so so excited !!) and my goodness it didn't disappoint it is beautiful and sparkling and compliments my Engagement Ring which was also... Read More

0.3

12-Aug-2022
Debra

Exceptional service.

Ordered an engagement ring, which exceeded all expectations. The cut of the diamond is truly incredible.

The whole Samara James team are absolutely fantastic. They are responsive, informative and kept me updated throughout the entire process. Have to say... Read More

0.3

10-Aug-2022
Oceana

I definately woukd recommend going to Sanara James. For their knowledge of diamonds. Even though we had done our homework, it made it easier to understand the difference in the diamonds. Pleasant experience and would use again. Read More

0.3

07-Aug-2022
Clover

Excellent customer service and outstanding knowledge of their products Read More

0.3

02-Aug-2022
Hadley

The ring is absolutely stunning, the communication, delivery & customer service were spot on. Love, love, love the ring. Read More

0.3

01-Aug-2022
Stephanie

Bal was extremely helpful in guiding us through the process of choosing and purchasing. Read More

0.3

29-Jul-2022
Charlotte

I have wrongly made feed back to samara james team ,unfortunately it was due to Royal Mail statment saying that they dont have my ring ,however Samara james did everything in they power to have my ring delivered on the day I needed it,Rob called me today and explained to me what happened Read More

0.3

28-Jul-2022
Bespoke Wedding Ring

The wedding band I ordered was too large so had to be replaced. The process was straightforward. Read More

0.3

28-Jul-2022
2.5mm Deluxe Court Light

Great service. Siobhan was extremely helpful and knowledgeable. Her advice was much appreciated. The delivery process is fantastic. Read More

0.3

16-Jul-2022
Bespoke Wedding Ring

Love the customer service from Samara James. Would certainly go back there if I ever got married again. Read More

0.3

13-Jul-2022
Giovanna

Excellent service , attention to detail is spot on.
Partner extremely excited when presented to her, which she absolutely loves.
Definitely recommend Samara Jame's to shop at with a great range to choose from too. Read More

0.3

11-Jul-2022
Marilyn

Outstanding customer service.friendly,and the item arrived early.thrilled. Read More

0.3

07-Jul-2022
Merlina

Samara is a delight to deal with. Always efficient and helpful. Beautiful products and timely delivery. Read More

0.3

05-Jul-2022
Vanishree

First rate attention, information and responsiveness. Read More

0.3

02-Jul-2022
Cameron

Excellent service very professional very understanding always putting the customer first and keeping you up-to-date on the process the service was 2nd to none, And I'd like to thank the lovely lady that dealt with my order thanks Read More

0.3

29-Jun-2022
Anastasia

Ring delivered early, Customer service was second to none, helpful and not money grabbing making sure you get what you need without just offering you add-on after add-on. did not over promise and under delivered, i would say they under promised and over delivered which for engagement rings is exactly... Read More

0.3

28-Jun-2022
Minerva

The service we received when selecting a ring was excellent. Cos(?) took time explain everything in a way that was easy to understand, and didn't make us feel rushed at all. Read More

0.3

27-Jun-2022
Shepperton

Excellent service and a beautiful ring. Couldn't be happier! Read More

0.3

25-Jun-2022
Stephanie

very warm and friendly staff who were also able to make it easy to follow in terms of what to look for when buying a ring Read More

0.3

25-Jun-2022
Geneva

Great communication and so helpful in answering questions. Read More

0.3

21-Jun-2022
Olivia

This was my first time buying an engagement ring and if I'm honest I was pretty overwhelmed with all of the options and what to look for. I dealt with Natalie who was phenomenal and answered all of my many questions, and I was extremely happy with my ring… as is my now fiancé. I don't have a bad thing... Read More

0.3

15-Jun-2022
Lois

Suzi was very helpful in helping me make my decision about the ring I was going to buy. Read More

0.3

13-Jun-2022
Meredith

Fantastic throughout! The price is incredible as well. I can't fault this service on any level. The online chat is really helpful and quick. Read More

0.3

03-Jun-2022
Sarah

I dealt with Martin and he was amazing!! Before we even looked at rings we went through what you pay for and what part of the quality it's worth putting your money into!
He made sure I was happy with everything throughout and even managed to get me the ring earlier for a deadline I wanted it... Read More

0.3

02-Jun-2022
Zola

Viviana was wonderful throughout the process. She was always there if I had a question/concern and aided in the bespoke design of the ring. Arrived within a month of placing my order, that this was only due to the band needing to be cast individually.

Unfortunately I will not be coming back... Read More

0.3

01-Jun-2022
Billie

I contacted Samara James to see if something was possible in just a few days, already residing it was probably too late. How they pulled it out of the bag - I will never know! Jenna is an absolute "gem" who is highly knowledgable, personable, friendly and a great communicator which was so key with the... Read More

0.3

31-May-2022
5.0mm Deluxe Court

Excellent service, really happy with the Wedding Rings. They arrived in beautifully presented wooden boxes and were perfectly finished. The design is fantastic! Read More

0.3

31-May-2022
3.0mm Channel Set

Good customer service Read More

0.3

29-May-2022
5.0mm Deluxe Heavy Court

Brilliant service and amazing rings Read More

0.3

28-May-2022
Bespoke Round Diamond Ring

Samara James's offers a really great service when it came to helping my pick out an engagement ring. The assistance that Isla (and the other staff) who guided me through the selection perfect. They were also able to offer sourcing of the more unique stones that I was looking for in the ring. Read More
GET IN TOUCH
We're on hand to make sure you get the best quality and value for your bespoke jewellery. Contact us today.
-
BY PHONE

01932 260 100

9.00am - 5:30pm. 7 days a week.

BY EMAIL

We aim to reply within 24 hours.