WHAT OUR CUSTOMERS THINK ABOUT US
Our Latest Reviews
We're proud of our satisfaction record, and not afraid to shout about it.
We believe that honesty is paramount. We make diamond jewellery because we believe that we can offer you an outstanding service at an outstanding price. So when we found Feefo we were delighted to add it to our website. Everybody claims they are special, but the only judge is you.
Feefo is an independent review system that gives you the chance to rate products and services within a range of Excellent to Bad. Whatever you record with Feefo, good or bad, it is posted immediately onto our website for the whole world to see.
We cannot edit or change your response in any way and are delighted to see that most of our customers have been pleased with our service.
Take a look at our most recent feedback, or visit Feefo by following this link.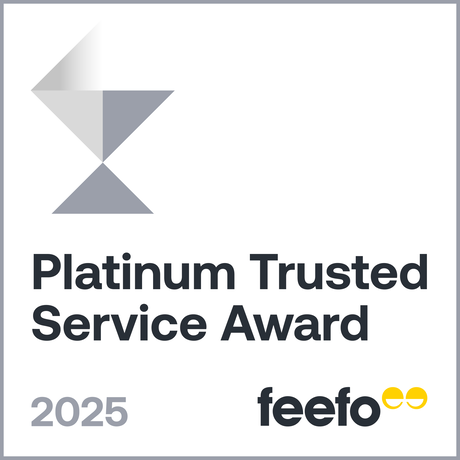 Date
Product
Score
Customer Comment

0.3

26-Jul-2021
Samara

I would definitely buy from them again, and l am already looking for another ring. Read More

0.3

25-Jul-2021
Cameron

Very good process from buying to talking to the ring creator who kindly suggested a slight adjustment to increase the overall look of the ring. Read More

0.3

22-Jul-2021
Chiquita

Excellent service Read More

0.3

21-Jul-2021
6.0mm Modern Court

The level of knowledge of professionalism is outstanding. I wouldn't buy anywhere else. Great understanding for bespoke items. Fabulous staff. I love both my engagement ring and wedding ring! Read More

0.3

21-Jul-2021
2.5mm Deluxe Court

Christina is top class great service great products no fuss Read More

0.3

21-Jul-2021
Bespoke Diamond Wedding Ring

Outstanding staff and products, I wouldn't buy anywhere else. Excellent understanding for bespoke items. I love both my engagement ring and wedding ring. Read More

0.3

21-Jul-2021
Kendra

Absolutely delighted with the ring and for Isabelle's expert advice. Read More

0.3

20-Jul-2021
5.0mm Modern Court

polite, imformative, efficient. great service all round!! Read More

0.3

19-Jul-2021
Athena

Perfect service was really helpful with picking the design and didn't try to sell above my budget. Ring was beautiful and would definitely recommend getting a round brilliant diamond hearts and arrows cut. The sparkle is something else! Arrived in good time and she said yes! Read More

0.3

15-Jul-2021
Danielle

The service from start to finish has been excellent, very professional, Read More

0.3

08-Jul-2021
Belita

They were very helpful and knowledgeable. They made the whole process very easy and were very welcoming. Read More

0.3

05-Jul-2021
9 Leaf Diamond

Stunning rings and first class service, with no sales pressure at all. Read More

0.3

04-Jul-2021
Brodie

Fantastic jewellery and lovely customer service. Would have no hesitation in recommending! Read More

0.3

02-Jul-2021
Meredith

Really great experience. We visited a high-street jeweller and were very disappointed by the service. In contrast, we had a fantastic appointment at Samara James. The salesman talked us through everything, and I loved the detailed information about what we were buying. The ring is stunning and seems of... Read More

0.3

02-Jul-2021
Hyacinth

I needed the product before a certain date and thanks to Samara James I was able to receive the product well on time and before the publicised arrival date. A great example of customer service. Read More

0.3

29-Jun-2021
Dido

Great service, quick turn around on the ring I wanted and was ready in time! Would use again. Read More

0.3

28-Jun-2021
Astrid

100% would recommend samara James. Firstly the location is lovely. Very professional and made to feel very welcome and at ease. The member of staff certainly new her job and nothing was too much trouble. Very pleased with the quality of the ring I choose and great value for money. Constantly kept up... Read More

0.3

27-Jun-2021
Bespoke Multistone Diamond Ring

Excellent service from beginning and end.Very good advice when ordering, kept to timetable for design, bespoke making of the ring and delivery. Finished article met everything my wife of 50 years was expecting.Impeccable Read More

0.3

26-Jun-2021
Julie

Isabel helped me find the perfect ring. She was very knowledgeable and patient. Helping me understand the important elements of the diamond, such as the cut being as crucial as the size to overall impact, was so helpful. Would recommend 100 percent. My fiancé is delighted. Read More

0.3

25-Jun-2021
Olivia

Zoe was brilliant. She spent a huge amount of time talking me through the best options and getting me the best possible diamond for my money. I would definitely recommend her to anyone looking for advice. Samara James & Zoe especially made the process smooth and pleasant. Read More

0.3

24-Jun-2021
3.0mm Deluxe Court

Never heard of Samara James until an advert popped up on my Facebook timeline. Was looking for an engagement/wedding ring and had booked a couple of other independent jewellers. Thought I would try them and really delighted and glad I did! Ending up buying from them for all rings. Very helpful staff,... Read More

0.3

24-Jun-2021
Stephanie

It was a great experience to visit their premises. We were shown a great variety of rings and then guided through the diamond purchase from start to finish enabling us to get the best diamond for us within budget. Read More

0.3

23-Jun-2021
Bespoke Design Other

Returning customer. Same excellent and knowledgeable service. Will certainly be back! Read More

0.3

22-Jun-2021
Aspen

Amazing customer service and always friendly and very helpful. Read More

0.3

21-Jun-2021
Ariana

We would definitely buy from Samara James again. The advice given by Christina was invaluable. Thoroughly searching the internet for a jewellers to visit to see any examples of the rings I wanted to look at, had left us so disappointed, we thought to just wait until we could wander and look in windows to... Read More

0.3

18-Jun-2021
Elizabeth

The cut and clarity of the diamond is amazing. The staff are incredibly knowledgeable and advised me throughout the purchasing process and kept me up to date from order being placed to delivery. They were able to change offer an exchange after my fiancé preferred another design. Read More

0.3

16-Jun-2021
Roxanne

They was patient and understanding and I paid it off I. Instalments, as long as it turns up and looks as good
As it did in the picture then money well spent Read More

0.3

16-Jun-2021
Stephanie

I ordered my fiancee's engagement ring over the Jan/Feb/Mar lockdown. The whole process from initial consult and stone selection to collection and eventual resizing was made easy by Isbaelle and other staff who assisted when she wasn't able to. I felt I knew what I was getting even though ordering... Read More

0.3

15-Jun-2021
2.5mm Full Claw Set

Excellent service from start to finish - beautiful shop too. would 100% recommend - 10 out of 10 Read More

0.3

15-Jun-2021
Ramona

I am very happy with the ring I bought from Samara James. The communication with Samara James was smooth, the ring is stunning, and, most importantly, my fiancee is very happy.

The only thing that was a bit confusing to me is that Samara James does not provide GIA reports for diamonds... Read More
GET IN TOUCH
We're on hand to make sure you get the best quality and value for your bespoke jewellery. Contact us today.
-
BY PHONE

9.00am - 5:30pm. 7 days a week.

BY EMAIL

We aim to reply within 24 hours.