WHAT OUR CUSTOMERS THINK ABOUT US
Our Latest Reviews
We're proud of our satisfaction record, and not afraid to shout about it.
We believe that honesty is paramount. We make diamond jewellery because we believe that we can offer you an outstanding service at an outstanding price. So when we found Feefo we were delighted to add it to our website. Everybody claims they are special, but the only judge is you.
Feefo is an independent review system that gives you the chance to rate products and services within a range of Excellent to Bad. Whatever you record with Feefo, good or bad, it is posted immediately onto our website for the whole world to see.
We cannot edit or change your response in any way and are delighted to see that most of our customers have been pleased with our service.
Take a look at our most recent feedback, or visit Feefo by following this link.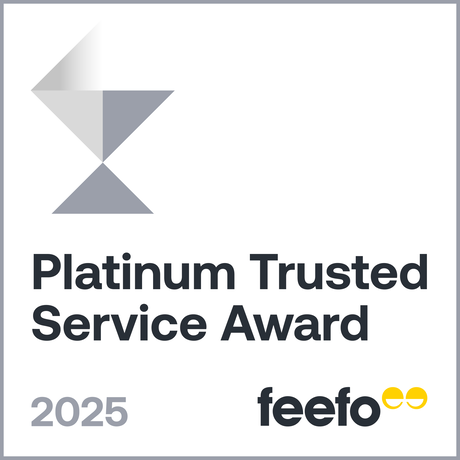 Date
Product
Score
Customer Comment

0.3

13-May-2021
Frankie

Yes they are fantastic Read More

0.3

11-May-2021
Stephanie

This is the 2nd time I have bought from them and once again the product and service was fantastic .Cannot recommend them highly enough. Read More

0.3

07-May-2021
Loretta

The service was amazing. Staff are very friendly and extremely helpful. I would definitely purchase from them again in the future Read More

0.3

06-May-2021
Tiffany

Very happy with the online purchase experience. Charlotte Collings was able to further advise me on the purchase and help me narrow down on my choices. Read More

0.3

03-May-2021
Lucinda

The service I have received has been second to none. Staff have been friendly, extremely helpful and very informative, making the decision on my final purchase so much easier.
Not only is my knowledge of diamond cuts now so much improved but to my delight the wife was overwhelmed with the... Read More

0.3

01-May-2021
Sloane

Service was brilliant from start to finish. I dealt with Cos who guided me from the first moment and really understood what I was looking for. This wasn't easy due to not being able to go to the store due to covid but even more impressive for Cos.
On top of that the actual rings WOW Read More

0.3

01-May-2021
Abigail

Straight forward explanation of choice of stones. Design was great (and she said yes) Read More

0.3

28-Apr-2021
Nyla

Very good set. Read More

0.3

28-Apr-2021
Romila

I was looking to replace a pair of diamond heart earrings which had been lost.
I came across this site and discovered the Romila range.
I decided to treat myself to the earrings and matching necklace.

Costica who dealt with my enquiries was brilliant answering my questions.
Read More

0.3

24-Apr-2021
Orchid

Isabelle Sharp at Samara James was absolutely amazing, she guided me through the whole process, and was such an amazing help! She has taught me a lot about diamonds, things I didn't even know about. I cannot recommend her enough. My ring arrived earlier than expected and is absolutely gorgeous. Thanks... Read More

0.3

21-Apr-2021
Stephanie

Absolutely fantastic customer service.

Upon selecting my order a customer service rep by the name of Emily contacted to query my selection.

Emily was able to better advise me on the selection of my diamond for my engagement ring. She advised to change from a flawless diamond... Read More

0.3

13-Apr-2021
Bespoke Wedding Ring

Polite and speedy service
Very pleasant sales team Read More

0.3

13-Apr-2021
Bespoke Diamond Wedding Ring

Second time I have had the pleasure of dealing with Samara James, absolute professionals, top quality items, excellent value and really easy to go through process with them, Christina was a star. Can't thank them enough. Read More

0.3

13-Apr-2021
Thea

I would highly recommend Samara James. I received great advice when choosing the ring and it was delivered within the timescale promised in a lovely presented box Read More

0.3

11-Apr-2021
2.5mm Modern Court

Customer service and advice is excellent. Quick responses and very seamless delivery. Bought two rings and both are perfect. Read More

0.3

10-Apr-2021
2.0mm Grain Set

Have bought both engagement and wedding band from them. Both stunning, perfect and both the metal and diamonds are of undeniable quality. I'm always complemented on the shine and style of my ring. Service is fab: staff are attentive and helpful. Easy to order online and a free resize if you need... Read More

0.3

10-Apr-2021
4.0mm Deluxe Court

nothing has been too much trouble for them and we have had two different sized wedding rings to try on before engraving, top notch service.cc Read More

0.3

10-Apr-2021
Bespoke Fancy Cut Necklace

Spot on from start to finish! Very nice Read More

0.3

09-Apr-2021
Cameron

Fantastic and most helpful in every way.
Costica and Emily were fantastic to speak to and were very patient, informative and extremely helpful. Read More

0.3

01-Apr-2021
Robin

Wonderful product and fast elegant delivery Read More

0.3

30-Mar-2021
Virginia

Excellent service from start to finish. Very polite and informed staff. Product was as stated with all relevant paperwork. Effortless purchase. Read More

0.3

30-Mar-2021
Bespoke Round Brilliant Earrings

Nothing is too much trouble, a very unique bespoke design created in a timely manner for a birthday. Read More

0.3

30-Mar-2021
Bonnie

Faultless from the beginning. Will definitely recommend Read More

0.3

26-Mar-2021
Logan

Great quality and super customer service very friendly! Read More

0.3

25-Mar-2021
Elizabeth

A big thank you to Samara James for such a flawless quality service. My partner really loves her new engagement ring. The quality is exceptional. I will continue to use SJ in the future and refer them to my family and friends. Read More

0.3

24-Mar-2021
Elizabeth

Very helpful with any questions I had, always quick with email responses and did everything they could to help and advise on buying the perfect engagement ring. Read More

0.3

23-Mar-2021
Saskia

Extremely helpful, ring was delivered well before our fairly short deadline. Read More

0.3

23-Mar-2021
Suki

Samara James have been wonderful throughout the whole process of choosing and purchasing an engagement ring online. Buying online for something so special was quite daunting but I took advantage of sending for a silver sample which really gave me a good idea of how the ring would look. When it came... Read More

0.3

17-Mar-2021
Loretta

Personal consultation, albeit virtually during lockdown, with clear explanations and recommendations following discussion of our preferences, allowing us to tailor our purchase. Good video instruction available to review in advance. Sample service was useful. Quick and efficient delivery. The end result is a... Read More

0.3

16-Mar-2021
Kirsty

Staff were as helpful as ever, great service. Read More
GET IN TOUCH
We're on hand to make sure you get the best quality and value for your bespoke jewellery. Contact us today.
-
BY PHONE

9.00am - 5:30pm. 7 days a week.

BY EMAIL

We aim to reply within 24 hours.