Seal Engraving
Seal engraving, otherwise known as 'Intaglio' is an ancient craft executed by tools that have remained unchanged for hundreds of years.
Having a sound understanding of heraldic law, our team will carve your coat of arms, crest, or clan badge in reverse onto your desired signet ring, thus creating a negative from which we then create a positive three-dimensional impression in a wax seal.
Each ring, be it our own or one you have supplied us with, will come within our unique boxed gift-set. This includes an encapsulated wax impression (we use 'Bank of England' quality wax which gives an immaculate impression), two wax sticks and instructions on how to use it.
As part of our service we are happy to assist in researching family names. If you do not have artwork or photos, we can also work from old wax impressions or an heraldic description of the crest.
Further Engraving information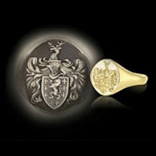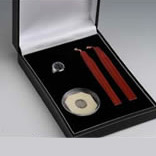 Arrange a call back
One of our designers will call you back within 24 hours.
Anti-spam: we'll never give your details to anyone else
Contact Us
If you would like one of our engraving experts to contact you to discuss your specific requirements please contact us using this form.
01932 260 100
Please call to talk with one of experts and we will answer any of your questions.
sales@samarajames.com
We will respond to email enquires within 24 hours for emails received between Monday and Friday.