WHAT OUR CUSTOMERS THINK ABOUT US
We're proud of our satisfaction record, and not afraid to shout about it.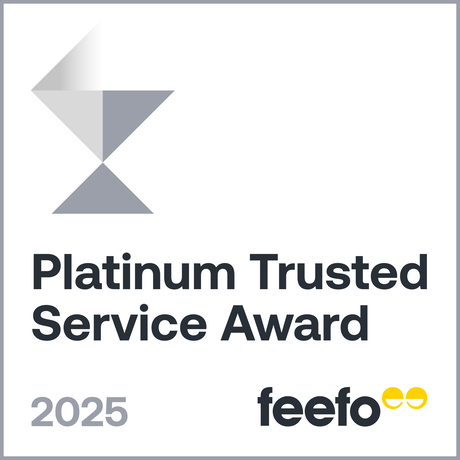 Our Latest Reviews
We believe that honesty is paramount. We make diamond jewellery because we believe that we can offer you an outstanding service at an outstanding price. So when we found Feefo we were delighted to add it to our website. Everybody claims they are special, but the only judge is you.
Feefo is an independent review system that gives you the chance to rate products and services within a range of Excellent to Bad. Whatever you record with Feefo, good or bad, it is posted immediately onto our website for the whole world to see. We cannot edit or change your response in any way and are delighted to see that most of our customers have been pleased with our service.
Take a look at our most recent feedback, or visit Feefo by following this link.
Date
Product
Score
Customer Comment

0.3

23-Aug-2017
5.0mm Deluxe Court

Easy to purchase from. Helpful customer service. Read More

0.3

21-Aug-2017
Meadow

A knowledgeable friendly service without the normal sales pressure. Read More

0.3

21-Aug-2017
Sarah

I would definitely recommend Samara James - Jo, on the online chat service, was incredibly informative and helped me to secure the perfect engagement ring. Thank you! Read More

0.3

17-Aug-2017
Molly

Very helpful team. Took time to ensure the bst choice was made Read More

0.3

17-Aug-2017
Antoinette

Excellent Read More

0.3

16-Aug-2017
5.0mm Deluxe Court

Very good service in a nice environment. Highly recommended Read More

0.3

15-Aug-2017
Morgan

Reasonably priced, great options to view diamonds on the website and very helpful in store. Read More

0.3

15-Aug-2017
Bespoke Round Brilliant Earrings

Fantastic service - the earrings were sooo sparkly! Read More

0.3

11-Aug-2017
Bespoke Ring Setting Only

My husband and I bought our wedding rings from Samara James and were really impressed with the rings and customer service. I have now purchased a ring for my son's 21st birthday and once again the ring and the customer service is outstanding. I would definiltey use again and totally reccommend. Read More

0.3

09-Aug-2017
Tara

Excellent service. We were made to feel so comfortable with no pressure to buy. Beautiful jewellery and very professional, clear advise given from advisor Ben who was a star. Item was stunning and arrived before promised. absolutely thrilled! Read More

0.3

03-Aug-2017
Bespoke Multistone Diamond Ring

Completely professional assistance and up to date feedback at all times. Truly excellent customer care. Also quality products with expert advice Read More

0.3

31-Jul-2017
Jocelyn

Initially sceptical of using a service from a jeweller I'd not heard of. Let alone an online service for a ring to drop a knee for. The service was exemplary. The team went above and beyond to ensure the ring was of top quality and matched my specs but what really impressed me was the after service.... Read More

0.3

26-Jul-2017
Xanthe

Excellent Read More

0.3

24-Jul-2017
Stephanie

Excellent recommendations, service and flexibility for late build! Read More

0.3

20-Jul-2017
Clio

Bought the Clio engagement ring - have had a wonderful experience from start to finish, the team at Samara James are really focused on doing everything they can for you. From the free ring size guage, the series of advice emails, the ability to accommodate requests whilst the ring was being made and... Read More

0.3

19-Jul-2017
Karen

Excellent, professional service. Would definitely recommend to others. Read More

0.3

13-Jul-2017
Star

Friendly staff and professional service. A quality product and delivered to a tight deadline to ensure I was able to take abroad for the proposal. Would highly recommend. Read More

0.3

12-Jul-2017
Olivia

From start to finish I couldn't fault it.Ordering was straight forward after they sent me a ring gauge, then when I had ordered they phoned me to check the order and give me some advice. They told me when to expect delivery and it arrived even earlier. Read More

0.3

10-Jul-2017
Bespoke Multistone Diamond Ring

Efficient and attentive. Second time I have purchased from Samara. They are nice people to deal with. I did have a query following delivery. It was handled with understanding and everything worked out to my complete satisfaction.
I am looking forward to my next purchase. Read More

0.3

06-Jul-2017
Cordelia

Fantastic. Harriet was very knowledgeable and patient. could me through everything very clearly. Read More

0.3

03-Jul-2017
Leah

Amazing service! Fantastic, huge choice. Personalised appointment made for 2 hours, so plenty of time to make a decision for such an expensive item that you will be happy with for years to come. The staff are exceptionally knowledgable, friendly and courteous and I am over the moon with my... Read More

0.3

03-Jul-2017
2.5mm Modern Court

Excellent service from start to finish Read More

0.3

30-Jun-2017
Stephanie

Very helpful company who at short notice provided an excellent service, producing a beautiful ring that my fiancé adores. Read More

0.3

28-Jun-2017
2.0mm Channel Set

Good levels of contact; suppportive with advice and recommendations throughout Read More

0.3

26-Jun-2017
Crossover

Samara James provide excellent customer service from start to finish, they are prompt, efficient and always do what they say they will. The quality and price of they're products are both great whilst still feeling like premium, if you're going to buy jewelry online then look no further than Samara James. Read More

0.3

09-Jun-2017
Engraving

Before and during sales service was excellent with Alex. She was very helpful and understanding and talked me through the process really well. the hallmark. Read More

0.3

07-Jun-2017
Sandra

Very prompt and helpful replies from anyone I dealt with. It made it all very easy to pick the exact ring I wanted, that also suited my budget. The ring was made and delivered quickly also. It went down very well! Read More

0.3

02-Jun-2017
Bespoke Diamond Wedding Ring

This is the second time I have used Samara James this time to purchase my weddings rings and again excellent service throughout the process ! My future wife and I designed our rings and choose the diamonds and we got exactly what we wanted . How many business do we deal with today that all they... Read More

0.3

25-May-2017
Damaris

The full experience from initial website to the final payment was very good. The sales staff could not do enough to help and advise on any point. The added bonus of the sample ring was a true benefit as I had two styles sent to evaluate both, this was a major positive. From this experience I will... Read More

0.3

24-May-2017
Bespoke Princess Diamond Ring

My girlfriend is extremely happy with her bespoke ring. Main priority for me was the cut grade of the diamond as I wanted the ring to be as scintillating as possible. I would recommend everyone who is looking to buy a diamond, is to do their research and make sure they don't compromise on cut as this... Read More
GET IN TOUCH
We're on hand to make sure you get the best quality and value for your bespoke jewellery. Contact us today.
-
BY PHONE

01932 260 100

9.00am - 5:30pm. 7 days a week.

BY EMAIL

We aim to reply within 24 hours.