WHAT OUR CUSTOMERS THINK ABOUT US
We're proud of our satisfaction record, and not afraid to shout about it.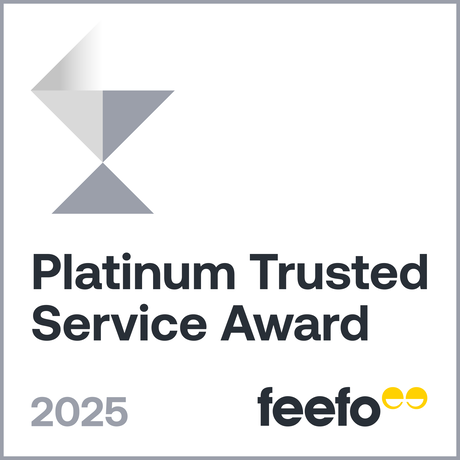 Our Latest Reviews
We believe that honesty is paramount. We make diamond jewellery because we believe that we can offer you an outstanding service at an outstanding price. So when we found Feefo we were delighted to add it to our website. Everybody claims they are special, but the only judge is you.
Feefo is an independent review system that gives you the chance to rate products and services within a range of Excellent to Bad. Whatever you record with Feefo, good or bad, it is posted immediately onto our website for the whole world to see. We cannot edit or change your response in any way and are delighted to see that most of our customers have been pleased with our service.
Take a look at our most recent feedback, or visit Feefo by following this link.
Date
Product
Score
Customer Comment

0.3

03-Nov-2017
Bespoke Round Brilliant Earrings

Superb service from Samara James - absolutely perfect Read More

0.3

03-Oct-2017
Helena

Very helpful, with good communication and excellent advice. I'd left it late to order an engagement ring before proposing on holiday and Samara James pulled out all the stops to help and ensure it arrived before our departure. Couldn't have been happier with the ring or the service, both pre and after... Read More

0.3

30-Sep-2017
Engraving

I bought my wife's bespoke engagement ring as well as both of our wedding ring from Samara James. Throughout the whole time Harriet was exceptionally helpful (and patient!) whilst I tweaked the designs several times over, ensuring that I got the design I want. My wife was absolutely thrilled by the ring... Read More

0.3

29-Sep-2017
Meredith

I went to many jewellers. All I can say I was treated perfectly and shall only be going here from now on. Originally from Shepperton but now live in the New Forest and well worth the journey. See you all soon.
Sean. Read More

0.3

28-Sep-2017
Emma

When I called to review my order , the staff were very helpful taking me through the type of ring I had bought. After a good bit of advice in jewellery I had decided to upgrade for a small fee resulting in and excellent cut diamond and the perfect peice of jewellery my other half could have imagined.... Read More

0.3

27-Sep-2017
2.0mm Channel Set

This is the second ring that I have purchased from Samara James. The customer service is excellent. Ever thought of purchasing a high value ring via the internet ? Have no fears - all very straight forward, safe and quick secure postage.
Thank you again for all your help. Read More

0.3

25-Sep-2017
Arwen

I ordered a ring for my wife for our wedding anniversary which we were going to celebrate in the Greek islands.
They would have been able to make and despatch it in time so they loaned us one in silver to tide us over till we returned.
Communication and customer service second to none. My wife... Read More

0.3

20-Sep-2017
Freya

Fantastic customer service, so helpful.
Actually had time to speak to
over the photo to help with my purchase would use again. Read More

0.3

18-Sep-2017
Niamh

Everything was excellent from start to finish, lots of useful advice ahead of making the purchase, everything delivered on time and the quality of the ring purchased was superb. Flawless!!! Read More

0.3

18-Sep-2017
Lily

Helpful staff and company who went the extra mile to make sure the ring was perfect and delivered on time. Read More

0.3

13-Sep-2017
Verity

Very easy to deal with and provide a very quick turnaround!

They were very helpful when choosing the engagement ring. Gave me many different options. Read More

0.3

13-Sep-2017
2.0mm Deluxe Court Light

Excellent personal service really helped me pick out the right rings. Read More

0.3

12-Sep-2017
Noreen

I researched engagement rings and retailers for months before finally making my purchase.

I bought an engagement ring for my fiancé using Samara James. All members of staff were incredibly helpful and personable throughout the process, despite the many many questions I had and concerns... Read More

0.3

07-Sep-2017
3.0mm Modern Court

Great service. I will definitely recommend to a friend. Read More

0.3

07-Sep-2017
Aspen

Personal attention was excellent, and the knowledge they had in helping to choose .... Read More

0.3

06-Sep-2017
Georgina

From start to finish 5 stars. Read More

0.3

04-Sep-2017
Stephanie

Alex was very helpful and knowledgeable. she took the time to explain everything to me, and made sure that I was happy with my purchase. would recommend her and Samara James to everyone. Read More

0.3

01-Sep-2017
Engraving

I wanted a special ring for my son's 21st birthday, having previously purchased both mine and my husband's wedding rings from Samara James I had no doubt that Samara James would be able to provide this. Outstanding customer service, beautiful ring, thank you! Read More

0.3

24-Aug-2017
2.5mm D-Shaped

very helpful customer service. good lead time on wedding rings and fantastic quality end product.

Thoroughly happy with the whole experience and would recommend to anyone! Read More

0.3

23-Aug-2017
5.0mm Deluxe Court

Easy to purchase from. Helpful customer service. Read More

0.3

21-Aug-2017
Meadow

A knowledgeable friendly service without the normal sales pressure. Read More

0.3

21-Aug-2017
Sarah

I would definitely recommend Samara James - Jo, on the online chat service, was incredibly informative and helped me to secure the perfect engagement ring. Thank you! Read More

0.3

17-Aug-2017
Molly

Very helpful team. Took time to ensure the bst choice was made Read More

0.3

17-Aug-2017
Antoinette

Excellent Read More

0.3

16-Aug-2017
5.0mm Deluxe Court

Very good service in a nice environment. Highly recommended Read More

0.3

15-Aug-2017
Morgan

Reasonably priced, great options to view diamonds on the website and very helpful in store. Read More

0.3

15-Aug-2017
Bespoke Round Brilliant Earrings

Fantastic service - the earrings were sooo sparkly! Read More

0.3

11-Aug-2017
Bespoke Ring Setting Only

My husband and I bought our wedding rings from Samara James and were really impressed with the rings and customer service. I have now purchased a ring for my son's 21st birthday and once again the ring and the customer service is outstanding. I would definiltey use again and totally reccommend. Read More

0.3

09-Aug-2017
Tara

Excellent service. We were made to feel so comfortable with no pressure to buy. Beautiful jewellery and very professional, clear advise given from advisor Ben who was a star. Item was stunning and arrived before promised. absolutely thrilled! Read More

0.3

03-Aug-2017
Bespoke Multistone Diamond Ring

Completely professional assistance and up to date feedback at all times. Truly excellent customer care. Also quality products with expert advice Read More
GET IN TOUCH
We're on hand to make sure you get the best quality and value for your bespoke jewellery. Contact us today.
-
BY PHONE

01932 260 100

9.00am - 5:30pm. 7 days a week.

BY EMAIL

We aim to reply within 24 hours.