WHAT OUR CUSTOMERS THINK ABOUT US
We're proud of our satisfaction record, and not afraid to shout about it.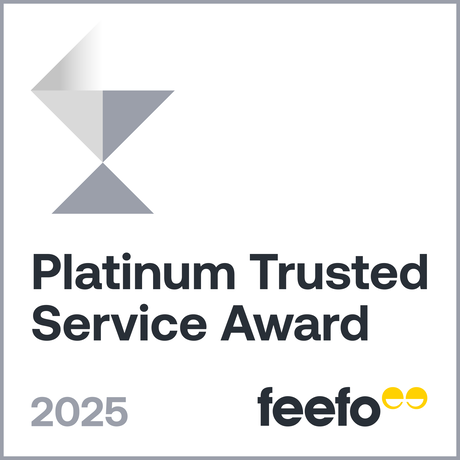 Our Latest Reviews
We believe that honesty is paramount. We make diamond jewellery because we believe that we can offer you an outstanding service at an outstanding price. So when we found Feefo we were delighted to add it to our website. Everybody claims they are special, but the only judge is you.
Feefo is an independent review system that gives you the chance to rate products and services within a range of Excellent to Bad. Whatever you record with Feefo, good or bad, it is posted immediately onto our website for the whole world to see. We cannot edit or change your response in any way and are delighted to see that most of our customers have been pleased with our service.
Take a look at our most recent feedback, or visit Feefo by following this link.
Date
Product
Score
Customer Comment

0.3

12-Jan-2018
Liberty

goof information available on diamond details. range and discussed plus emailed. Read More

0.3

05-Jan-2018
Lois

Excellent customer service for a great range of products. Met expectations perfectly Read More

0.3

27-Dec-2017
Billie

Excelled in my order! Thank you! Read More

0.3

26-Dec-2017
Camilla

Shortly after ordering online I had a phone call from Isabell asking if I wanted my purchase by Christmas, I did and she suggested slight alterations to my requirement for that to happen. I agreed. She was extremely pleasant and accomodating.
My order arrived during the week before Christmas and... Read More

0.3

24-Dec-2017
Fiona

I was guided through every aspect of the diamond selection process, given a comprehensive explanation of the different levels of quality and which aspects of the diamond are more or less important relating to what I was looking for. Every stage of the ring's creation was handled in a friendly but... Read More

0.3

22-Dec-2017
Abigail

Superb service. Really friendly helpful people who gave good advice to a novice engagement ring buyer, and all at a competitive price. Really pleased with the ring, thanks. Read More

0.3

22-Dec-2017
Helena

Excellent quality and value for money. Extra points for Saturday delivery and customer service. I highly recommend. Read More

0.3

21-Dec-2017
3.0mm Channel Set Flat

Great service from start to finish, very helpful & knowledgeable staff and very willing to help. Great products and environment to browse & choose. Read More

0.3

21-Dec-2017
Tatum

Excellent customer service, I was given perfect advice during the purchase in making changes to my original order, informed with updates during the delivery. Read More

0.3

20-Dec-2017
Florence

Amazing Service, Helped through every part of the ring the cut the carat the colour, My now fiancé loves the ring. Would highly recommend Read More

0.3

20-Dec-2017
Harmony

Great consultancy about the diamonds and the rings in general. My budget was taken into an account and the best diamond quality:price deal was adviced for the ring I wanted.

Payment was absolutely pain-free process and the customer servants were patient throughout the process. The... Read More

0.3

20-Dec-2017
Clio

Ordered an engagement ring online, got a call the next to go over my choice. They were very friendly and helped me out immensely. I edited my order to suit their recommendation. Was blown away with the ring when it came.
Ps she said yes. Read More

0.3

20-Dec-2017
Leah

Friendly, fast service. Took the time to talk you through what to look for in a diamond and we're happy to help when I changed what I was looking for Read More

0.3

20-Dec-2017
Assay Office Valuation - 48 Hour

Samara James give a personal touch I've not found elsewhere. They had excellent insights and helped me sort my grandmother's ring. I always get my rings from them. Read More

0.3

20-Dec-2017
Cherish

Bought a diamond ring for 40th. Beautiful designs, lovely visit to showroom - lots of choice and not hurried. Everything explained fully. Would definitely recommend. Read More

0.3

20-Dec-2017
Marilyn

I never write reviews. However I cannot recommend Samara James enough! They truly have something special to offer because they exceed in customer service. I am probably one of the worst customers anybody could have because of how many questions I have and Harriet answered everything so patiently,... Read More

0.3

20-Dec-2017
Olivia

Excellent service. Show rooms and polite people create a sophisticated professional ambience. Read More

0.3

20-Dec-2017
Tatum

We had a great experience from the moment I booked on line, to the appointment and then to receiving my beautiful ring in the post.
The appointment rooms are lovely and we received a very professional and personal service. Having not known a lot about the grading of diamonds we are now experts!... Read More

0.3

20-Dec-2017
Bespoke Ring Setting Only

This is my second time dealing with Samara James and I can honestly say it was a wonderful experience. The advice given to me by the sales team was second to none and they were incredibly patient with my decision making process. Shan listened to all my requests and I am so happy with my ring. I can't... Read More

0.3

20-Dec-2017
Billie

Really quality and experienced salespeople, making sure you know what you are buying before you make the ultimate decision. No pressure at all to buy and they let me visit a number of times before I finally made my mind up! Thanks for putting up with me - she loves the ring! Read More

0.3

20-Dec-2017
Rosebud

Gift for my sister - she really loved them - sooo sparkly and felt weighty (but not too heavy to wear!!) Read More

0.3

20-Dec-2017
Leah

Outstanding! Read More

0.3

03-Nov-2017
Bespoke Round Brilliant Earrings

Superb service from Samara James - absolutely perfect Read More

0.3

03-Oct-2017
Helena

Very helpful, with good communication and excellent advice. I'd left it late to order an engagement ring before proposing on holiday and Samara James pulled out all the stops to help and ensure it arrived before our departure. Couldn't have been happier with the ring or the service, both pre and after... Read More

0.3

30-Sep-2017
Engraving

I bought my wife's bespoke engagement ring as well as both of our wedding ring from Samara James. Throughout the whole time Harriet was exceptionally helpful (and patient!) whilst I tweaked the designs several times over, ensuring that I got the design I want. My wife was absolutely thrilled by the ring... Read More

0.3

29-Sep-2017
Meredith

I went to many jewellers. All I can say I was treated perfectly and shall only be going here from now on. Originally from Shepperton but now live in the New Forest and well worth the journey. See you all soon.
Sean. Read More

0.3

28-Sep-2017
Emma

When I called to review my order , the staff were very helpful taking me through the type of ring I had bought. After a good bit of advice in jewellery I had decided to upgrade for a small fee resulting in and excellent cut diamond and the perfect peice of jewellery my other half could have imagined.... Read More

0.3

27-Sep-2017
2.0mm Channel Set

This is the second ring that I have purchased from Samara James. The customer service is excellent. Ever thought of purchasing a high value ring via the internet ? Have no fears - all very straight forward, safe and quick secure postage.
Thank you again for all your help. Read More

0.3

25-Sep-2017
Arwen

I ordered a ring for my wife for our wedding anniversary which we were going to celebrate in the Greek islands.
They would have been able to make and despatch it in time so they loaned us one in silver to tide us over till we returned.
Communication and customer service second to none. My... Read More

0.3

20-Sep-2017
Freya

Fantastic customer service, so helpful.
Actually had time to speak to
over the photo to help with my purchase would use again. Read More
GET IN TOUCH
We're on hand to make sure you get the best quality and value for your bespoke jewellery. Contact us today.
-
BY PHONE

01932 260 100

9.00am - 5:30pm. 7 days a week.

BY EMAIL

We aim to reply within 24 hours.