WHAT OUR CUSTOMERS THINK ABOUT US
We're proud of our satisfaction record, and not afraid to shout about it.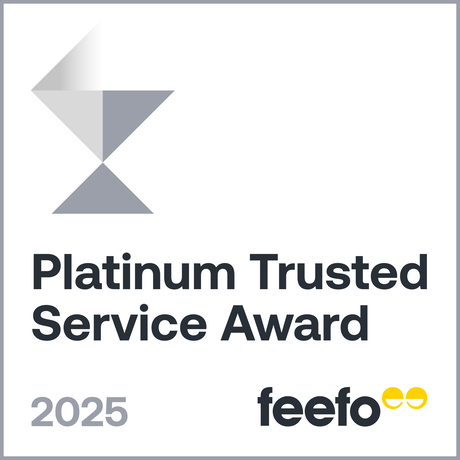 Our Latest Reviews
We believe that honesty is paramount. We make diamond jewellery because we believe that we can offer you an outstanding service at an outstanding price. So when we found Feefo we were delighted to add it to our website. Everybody claims they are special, but the only judge is you.
Feefo is an independent review system that gives you the chance to rate products and services within a range of Excellent to Bad. Whatever you record with Feefo, good or bad, it is posted immediately onto our website for the whole world to see. We cannot edit or change your response in any way and are delighted to see that most of our customers have been pleased with our service.
Take a look at our most recent feedback, or visit Feefo by following this link.
Date
Product
Score
Customer Comment

0.3

28-Jun-2017
2.0mm Channel Set

Good levels of contact; suppportive with advice and recommendations throughout Read More

0.3

26-Jun-2017
Crossover

Samara James provide excellent customer service from start to finish, they are prompt, efficient and always do what they say they will. The quality and price of they're products are both great whilst still feeling like premium, if you're going to buy jewelry online then look no further than Samara James. Read More

0.3

09-Jun-2017
Engraving

Before and during sales service was excellent with Alex. She was very helpful and understanding and talked me through the process really well. the hallmark. Read More

0.3

07-Jun-2017
Sandra

Very prompt and helpful replies from anyone I dealt with. It made it all very easy to pick the exact ring I wanted, that also suited my budget. The ring was made and delivered quickly also. It went down very well! Read More

0.3

02-Jun-2017
Bespoke Diamond Wedding Ring

This is the second time I have used Samara James this time to purchase my weddings rings and again excellent service throughout the process ! My future wife and I designed our rings and choose the diamonds and we got exactly what we wanted . How many business do we deal with today that all they... Read More

0.3

25-May-2017
Damaris

The full experience from initial website to the final payment was very good. The sales staff could not do enough to help and advise on any point. The added bonus of the sample ring was a true benefit as I had two styles sent to evaluate both, this was a major positive. From this experience I will... Read More

0.3

24-May-2017
Bespoke Princess Diamond Ring

My girlfriend is extremely happy with her bespoke ring. Main priority for me was the cut grade of the diamond as I wanted the ring to be as scintillating as possible. I would recommend everyone who is looking to buy a diamond, is to do their research and make sure they don't compromise on cut as this... Read More

0.3

11-May-2017
Olivia

5* experience from Samara James. My fiancé loves her ring, the Diamond is so clear and sparkly and the ring complements it perfectly.

A big thank you to Jo who was great though out the process and spent over 2 hours with me while I choose the ring and Diamond. It's a very unique experience... Read More

0.3

10-May-2017
Olivia

Really pleased with the ring that I bought from Samara James and I am sure my wife will be pleased when She gets her ring on our Golden Wedding anniversary.Very friendly staff thank you Read More

0.3

04-May-2017
Harmony

This is the second ring I have purchased from Samara James and like the first one it is exactly as described really lovely. It was delivered exactly on time Read More

0.3

04-May-2017
Engraving

Took the time to understand my requirements and helped me make the right choices. One very happy partner. Read More

0.3

03-May-2017
5.0mm Modern Court

The team at samara James were absolutely fantastic. Read More

0.3

25-Apr-2017
Anne

Very professional and the quality of the diamonds was fantastic! Catered for all budgets and delivered a great product Read More

0.3

24-Apr-2017
2.0mm Deluxe Court

This is the second time that we have purchased from Samara James and in both cases the products exceeded our expections and arrived well within the estimated delivery time. Will use again. Read More

0.3

21-Apr-2017
Engraving

I was initially a bit dubious about buying an engagement ring on-line but everything went really smoothly and the ring looks beautiful - it was also considerably cheaper than from a shop. I do recommend going to the showroom in Shepperton to see the difference between grades of diamonds. Read More

0.3

13-Apr-2017
Bespoke Diamond Wedding Ring

Had a customised wedding ring made to fit my engagement ring and they were very helpful and professional through the whole process and kept me updated what was going on. They definitely know what they are talking about which made it very easy for me to trust their opinions and expertise and the... Read More

0.3

13-Apr-2017
Divya

Excellant service from start to finish. Huge choice of styles to choose from from traditional styles to something a bit more unusual. Read More

0.3

06-Apr-2017
Neasa

Delighted with the ring. Service was excellent. I was late ordering but my deadline for delivery was matched. The usual lead time for the ring was halved which I really appreciated. Very easy to deal with. Read More

0.3

05-Apr-2017
Cordelia

Initially a good service when I visited the showroom. I was pressured into buying a hearts and arrows cut instead of the premium cut I wanted , but thought the expert knew best. When I received my 3 stone ring, one of the stones was clearly much smaller than the others and had been set lopsided. I did... Read More

0.3

05-Apr-2017
2.5mm Modern Court Light

Very pleasurable experience,have advised others to use.Thanks. Read More

0.3

05-Apr-2017
Leah

Rob was an excellent help in explaining the key features of Diamonds and supported me in making my decision. I would definitely come back. Read More

0.3

31-Mar-2017
Nina

If you're only ever going to buy one ring then make sure it's from Samara James. Unbelieve value and service. Read More

0.3

30-Mar-2017
Bespoke Diamond Wedding Ring

Fantastic, really loved my matching wedding and eternity rings, so much sparkle! Read More

0.3

28-Mar-2017
Leah

I was supported by Isabelle, 10/10 service. I knew I was struggling but I didn't feel patronised with how limited my ring purchasing knowledge was. Delivery was on time, just got to get it resized now but really pleased! Thank you Isabelle Read More

0.3

27-Mar-2017
2.0mm Deluxe Flat

Amazing service
Very helpful team who know what they are doing
Helped make our special day amazing with the rings Read More

0.3

24-Mar-2017
Tanvi

We found every step of the journey getting a ring from Samara James a marvellous experience - a well considered and engaging website, excellent sales staff at the showroom, reliable delivery service and altogether good communication through the period.

Price? Well worth it! Read More

0.3

24-Mar-2017
Olivia

Amazing service, and an amazing price . How much more nicer is it to have your ring made how you want it than just popping to an average shop . My misses loved the experience. The staff were extremely freindly and knowledgeable. I will definitely be getting our wedding rings from them when the time comes Read More

0.3

22-Mar-2017
Bead

Bought my fiancée's engagement ring both of our wedding rings from Samara James. A pleasure to meet both representatives at their office who provided helpful advice and never made me feel pressured or rushed - was even able to visit on a Sunday. My fiancée was absolutely thrilled with her wedding... Read More

0.3

21-Mar-2017
Heidi

Excellent service throughout. Friendly helpful staff online. Great that you can have a silver sample sent out before you buy. Fast Delivery. My now Fiancee absolutely loves the ring. Can't recommend Samara James enough. Read More

0.3

20-Mar-2017
Sofia

First class service and product Read More
GET IN TOUCH
We're on hand to make sure you get the best quality and value for your bespoke jewellery. Contact us today.
-
BY PHONE

01932 260 100

9.00am - 5:30pm. 7 days a week.

BY EMAIL

We aim to reply within 24 hours.