12 months Interest Free Credit
Choose the perfect piece of diamond jewellery and spread the cost over 12 months with 0.0% APR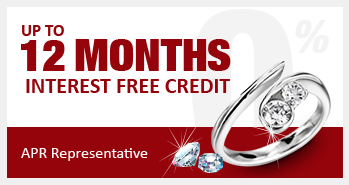 Either a 6 or 12 month interest free credit option is available on all purchases from our website over £500.
All finance orders are subject to a minimum deposit of 20% which will be taken from your Debit or Credit card once your order has been placed with us. You will receive a decision from our finance company immediately.
You can apply for finance provided that you are at least 18 years old and are a permanent UK resident. You must also hold a bank or building society account capable of handling direct debit payments and have an active Credit or Debit card registered to your home address.
Simple application process
Choose your piece of jewellery
Choose from the range of beautiful jewellery that Samara James has on offer. One of our team would be delighted to offer any advice you may need to find the perfect option for your budget. Once you have chosen your item you need to decide which agreement would work for you (6 months or 12 months).
Place your order
To place your order and pay your deposit contact one of our dedicated jewellery consultants either by telephone or during a visit to our showroom. A credit agreement will then be set up for you ready for you to complete on-line. You can also order directly from our website and choose the 0% Interest Free Credit option at the checkout.
Complete the simple on-line application form
On receipt of the email please fill out the on-line applicationform and eSign* it. You will normally receive a decision if your application has been approved within 1-2 minutes. Occasionally V12 Finance may require more information from you and, if this is the case, they will contact you directly within normal working hours.
Talk with an Expert
One of our experts will call you back within 24 hours.
Anti-spam: we'll never give your details to anyone else
Contact Us
If you have any questions about our interest free credit payment option , or if you would like to speak with one of our diamond experts, please call us now or fill in our call back form.
We are open 7 days a week between 09:00 and 17:30 and also for evening appointments by prior arrangement.
01932 260 100
To talk with one of diamond experts
sales@samarajames.com
We will respond to email enquires within 24 hours for emails received between Monday and Friday.