Bespoke Jewellery Design
What could be more romantic or as exciting as commissioning your own piece of jewellery?
Whether you are looking for a unique piece of jewellery designed by us, a piece created to your own design from your imagination, through to modifying a design you have seen, Samara James can work with you to create a unique piece of jewellery. You can commission your own completely unique design for less than the cost of a standard ring on the High Street.
Working with our designers, we will help you turn your ideas and inspiration into beautiful diamond jewellery that is hand finished to the highest possible standard.
If you already have a clear idea on the style of the ring that you like, we can re-produce the design to ensure you have exactly the style that you are looking for.
All for a price that is less than the cost of a similar sized, mass produced ring from the high street.
Visit our West London showroom & workshop to discuss your requirements. Arrange your appointment online or call us on 01932 260 100.
Award Winning Designs
Over the last 10 years we have been entrusted to make a wide range of bespoke engagement rings and jewellery.
Commissioning us to make an engagement ring is a very special experience and you can be assured of receiving the highest quality service and workmanship.
Our designers have also created wedding and eternity rings, necklace and earrings sets, bracelets, charms, and cufflinks. Many items combine various precious jewels including sapphires, rubies, with diamonds, to make some truly exquisite jewellery.
One of the many pieces commissioned with us is a 97ct emerald and marquise cut diamond riviera style necklace, containing a stunning 27ct central diamond and 38 matching graduated diamonds.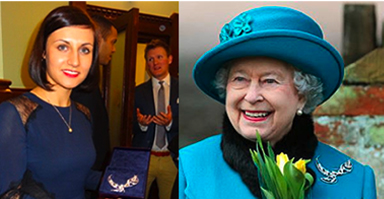 One of our designers created the 'Eternal Dove Brooch' based on the Sceptre with Dove, originally made for the Coronation of King Charles II in 1661. The Brooch won the BJA's 'Design a Diamond Jubilee Award' and was worn by the Queen on Christmas Day.
Our simple, step-by step design process
Find out how we can help you design the perfect piece of bespoke jewellery.
1. Initial discussion
Your bespoke design experience starts with an in-depth discussion with one of our dedicated jewellery consultants. Whether you are looking to re-model an existing design or create something completely unique, our designers will happily create a design brief for you so you can see how your ideas and dreams can become reality.
2. Choose your beautiful stone
In conjunction with the design concept we also help you choose from our beautiful collection of stones. Whether you are looking for a perfectly cut Canadian diamond, a beautiful Ceylon sapphire, or a captivating Zambian emerald, it will be our pleasure to show you the difference in appearance, beauty and price to enable you to find your perfect option.
3. Computer Aided Designs
For more complex designs, we develop a series of CAD images for you to review. This will help you to choose your final design. We can also produce hand drawn images if required.
Arrange a call back
One of our designers will call you back within 24 hours.
Anti-spam: we'll never give your details to anyone else
Contact Us
To discuss and share your design ideas with one of our experts please call us now or fill out our call back form.
01932 260 100
Please call today to talk to one of our designers. We offer a no obligation design service.